The Kid's College enriches the lives and expands the horizons of school age children by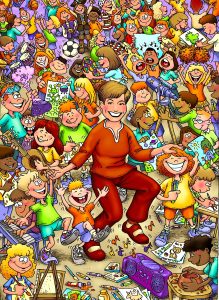 providing high quality enrichment classes and programs that are both convenient and affordable. The Kid's College fills a vital community need by providing quality enrichment programs in a wide variety of disciplines; such as the visual and performing arts, language arts, physical education, science, engineering and life skills. These classes are taught by professional instructors and practicing artists and are provided at the child's school either after school and/or during the day.
In 1995, Carole Beeson, a classroom teacher of 23 years, passionate about the arts, assisted a colleague in creating exciting enrichment classes for the students of Richland Elementary in San Marcos after school. In 1996 Carole Beeson retired from the district and further developed Kid's College as an independent after school program. She grew the program in the number of classes offered, and by 2001 Carole had expanded the program to five schools in the San Marcos Unified School District. In October of 2001 two women with extensive background in the high tech marketing field were looking for a way to create programs for children when they met Carole. Ann Little (23 years of high tech Marketing experience) and Pam Harris (an Electrical Engineer, MBA and Director of Product Management) joined forces with Carole to expand the Kid's College mission. Ann began working with Carole and Kid's College in 2001 and Pam in 2004. Together they helped to create the infrastructure for the organization to manage the growth and added complexity. The organization became a 501(c)3 non profit organization in 2002 and grew to over 20 schools in five districts by 2006.
As one of the largest and consistent enrichment organizations in North County San Diego, The Kid's College currently serves over twenty elementary and middle schools in five districts in San Diego's North County. In addition, we have provided GATE (Gifted and Talented Education) programs and camps, chorus and drama productions, ballroom dance for all 5th graders at a school, summer camps and supplemental enrichment programs for ASES programs and for educationally disadvantaged youth. In the 2012-2013 school year, we provided enrichment classes to over 5,000 students.   In our 15+-year history we have provided enrichment to over 60,000 students!