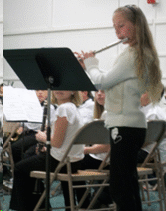 Our Performing Arts classes include music, dance and theater classes.  Each of these allow self-expression through song, movement and performance.
In addition to our standard programs Kid's College offers year-long Band programs at specific school sites.  Currently for the 2014-2015 school year, we will offer Band at Breeze Hill, Casita Center, and Mission Meadows in Vista Unified and Discovery and Richland in San Marcos Unified.
The Kid's College has also partnered with San Marcos Unified School District to launch the Forte Orchestra Program.  Please see the Forte Orchestra Music Program pages for more information.